Grove House Surgery
80 Pryors Lane, Bognor Regis, PO21 4JB
Current time is 07:09 - Sorry, we're closed
Telephone: 01243 265222
cwsccg.grovehouse-bognor@nhs.net
Latest News (click title to open):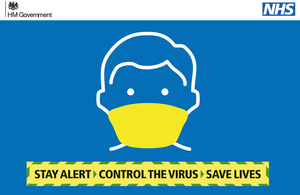 Please be aware that as of Monday 15th June, Wearing of face masks will become mandatory in GP practices by NHS England.
However, it's crucial that patients also wear face coverings when attending practices, as they are being told to in hospitals, in order to help prevent the spread of Covid-19.
Face coverings are not the same as face masks. It is important that people do not use medical grade PPE masks to ensure these remain available for frontline staff. Last month, the government set out advice for people on how to make their own face coverings easily at home, using scarves or other textile items.
These measures are vital if we are to protect patients, the NHS workforce and the nation's health.